Tracy Baker is our May CEO Star!
As a result of NYS's updated mask mandate guidelines, CEO has revised the most recently issued protocols.
Effective Wednesday May 19th, any staff that are fully vaccinated and have provided proof to Human Resources will be allowed to perform work within CEO sites, including traveling within common areas without a mask or social distancing.
All Early Childhood staff will continue to be required to wear masks while working with children until the NYS Office of Children and Family Services (OCFS) provides updated guidance for vaccinated staff.  As previously informed, any unvaccinated staff will be required to wear masks and practice social distancing while interacting with any other staff, regardless of vaccinated status or children being present.
Vaccinated staff may continue to wear a mask and practice social distancing if they prefer.
To receive a mask waiver, please forward your vaccination card to Covid@ceoempowers.org .
Updated Covid-19 protocols May 19 2021
This Friday CEO is celebrating Community Action Day! Below is a list of activities happening across the agency. As a reminder, the overall schedule for the day is:
8am to 9:30am—Work or potential Community Action activities
10am to 11:30am—All Staff Zoom Meeting featuring keynote speaker, Arel Moodie
Lunch immediately following
12:30pm to 2pm—Work or potential Community Action activities
2pm—Dismissal
Don't forget to wear a CEO T-shirts and/or fleece zip-ups and send along any pictures to marketing@ceoempowers.org!
Admin Building
Fill the Truck Event 8-10am and 12pm-2pm
Cleanup on CEO Fifth Avenue Campus
CRC
Will be planting flowers in pots for Foster Grandparents and in the neighborhood. It will enhance the the local area and strengthens family relationships when dropping children off or on walks. It would help the foster grandparents feel apart of the center.
There will be a Food & Cleaning Supply Distribution Event at the CRC from 12pm-2pm while supplies last!
UTC
Flower planting at the playground and clean up of the UTC Building! "Beautification of the outside UTC space and the playground is a great way to engage with our families and provide learning opportunities for the children by planting and maintaining flowers."
Lansingburgh FRC
Building, parking lot, and playground cleanup, building a sensory path on the playground, and tearing out and putting in new garden beds in the playground.
Rensselaer FRC
Make and deliver bird houses and bird seed to the senior center and our foster grandparents. "We will build and decorate some bird houses with bird seed to donate to the seniors at the senior center and in senior housing . The isolation from the pandemic has had an effect on the senior population and this is a way to give some cheer to the seniors as spring arrives with a visual reminder of fresh starts and hope."
Schodack FRC
SFRC Community action plan will be cleaning up around the center, and putting together flowers and flower pots for the Senior housing, library, and firehouse in town.
Hoosick Falls FRC
"The staff members of HFFC agreed that a great way to improve the community would be to add beauty to the center. We would love to plant some flowers out front to make the appearance more appealing. Also, we would love to start a vegetable garden. Our plan is to maintain the garden all summer and share the vegetables in the fall. The garden will be a ongoing team project and something our staff is willing to take on."
Help us spread the word!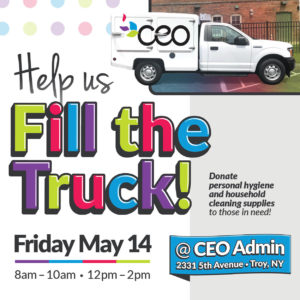 CEO is happy to be holding our annual Fill the Truck event again this year. Although smaller, and adhering to social distancing and CDC guidelines, we are looking forward to bringing the community together to help us stock our Food Pantry with personal hygiene products and cleaning supplies for those in need.
We'll be looking for donations of:
Toothpaste
Deodorant
Shampoo & Conditioner
Feminine hygiene products
Toilet paper
Paper towels
Household cleaners
Laundry detergent
Pet food
and more!
Donations can be dropped off at
CEO Administrative Building
2331 Fifth Avenue
Troy, NY
Friday May 14th from 8-10am and 12-2pm.
Help us wish a Happy Birthday to all the staff members with May birthdates! Staff Member Location Birthday Angelica Nieves CRC May 4 Michael Gagnon UTC May 8 Rachael Pollak LFRC May 9 Jennifer Billera HFFRC May 10 Victoria Knapp RFRC May 13 Augustus Campbell CRC May...
read more